After my last post on
Fears for Tiers
 its seems only right that I should update now that some more information has come out regarding how these changes will actually proceed.
CCP Ytterbium
 (what a name!) has posted a
thread
in the Ideas and discussion sections of the forums on the proposed changes to 5 frigates for Inferno.
Two first points of interest. Firstly the location of this thread is an indication of the content; i.e. and idea not solid fact. However it does give us a very valuable incite into exactly how the collective mind of CCP is thinking about these changes.
Here is a summery of his first two posts for those not willing to trawl the whole thread:
The Attack Ships will be:
Tormentor: role changed from mining frigate to medium range combat vessel
Punisher: improved role to fit close-medium range brawler
Merlin: overhauled role to fit medium-long range turret platform (may be reconsidered as resists loss is pretty hefty)
Incursus: overhauld role to fit close range brawler
Rifter: role untouched, it already is made of win and dipped with awesomesauce
Attack ships are expected to be a well balanced mix of spank tank and speed, with the slight draw back of capacitor issues (still under consideration). The aim of this class is pretty much to all be similar in power to the Rifter, which is receiving only a minor change (very slight cap nerf very slight HP boost).
In my
previous post
I was a bit puzzled as to where Mining Frigates were going to sit in all this, and in the end assumed that they would simply classed as a Support Frigate. I couldn't have been more wrong. With the benefit of 20:20 hind sight this does make sense. CCP has stated that the aim of these changes is to make ALL T1 ships viable in combat in equal measures. We also know that the tier chart below (from a
previous dev blog
) clearly shows the T1 ships should be more of a versatile platform.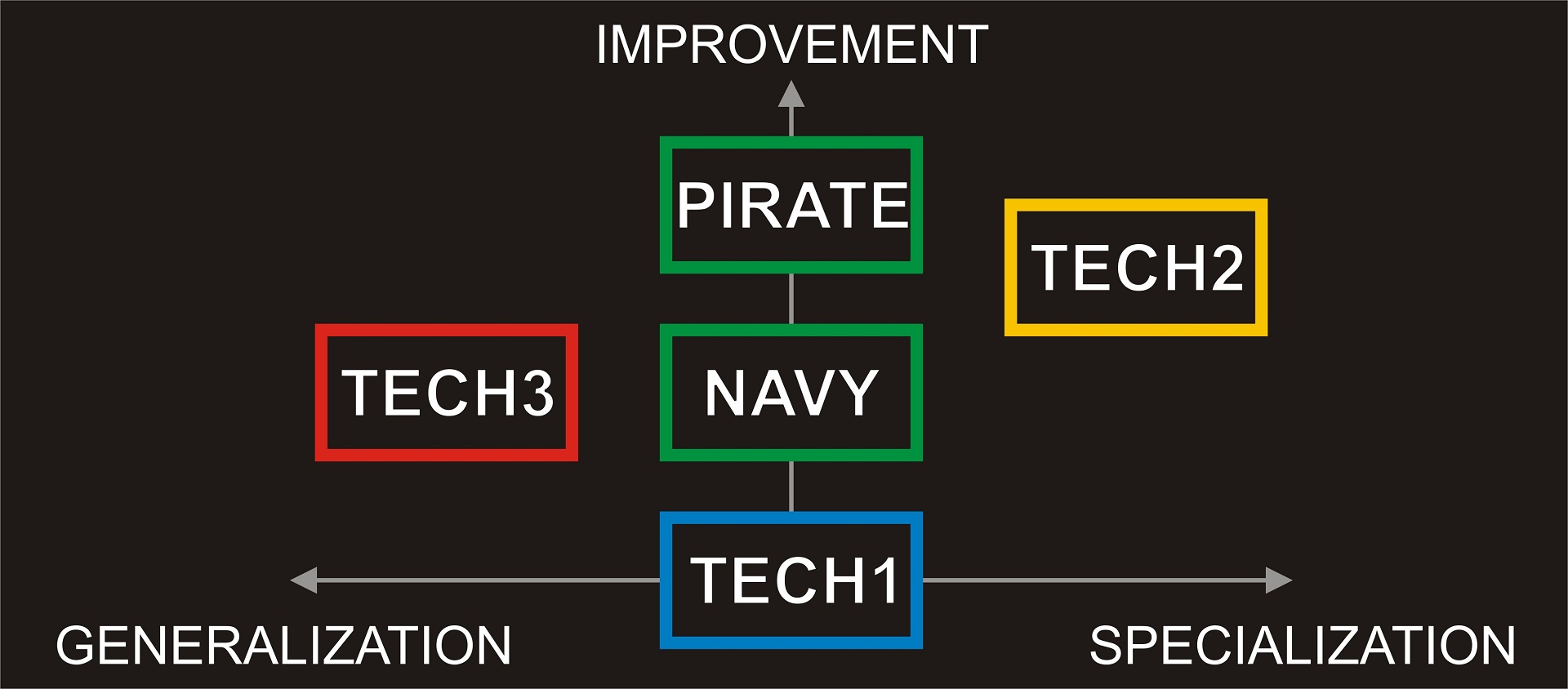 With this in mind we can clearly see that the decision to revamp a ship specialised for mining into a more general combat role, does make clear sense. But the question remains; what will happen to newbe mining progression? 
Ytterbium adds that they are currently considering adding an ORE frigate and/or giving some more mining roles to the newbe frigates.
This does also portend to an interesting future for the eWar frigates.
Ytterbium Mentions that they will retain their current split (EWScanning) but need a boost. Judging by the statements given on each role in the initial dev blog, they will still require far more damage and mobility, with a small buff to tanking in-order to fit with the role described (again summarised in my previous post)
This is some great stuff so far; and if CCP can really turn all these frigates into Rifter equivalents, we could be seeing a lot more variation in frigate combat than we are at the moment, all of which encourages the emergent content which seems to have been leaking out of the game of late.
Looking even further into the future (as this will likely be the template used for cruisers and above), we will likely see the same changes to mining cruisers and perhaps similar boosts/nerfs to all ships as per their class classifications. My only worry is the time frame for these changes, going slow to receive feedback is one thing: five ships per 7 months seems a little to slow for my liking
*
.
Thank for reading
Hark¬
*This is pretty unfair of me, CCP  spent a lot of this time looking at all ships and the roles themselves, and have already stated that they are short on development time for this change. These are mitigating circumstances, but if my time in development has taught me anything, its that there are always mitigating circumstances.